Computer Basics


Understanding the Cloud
What is the cloud?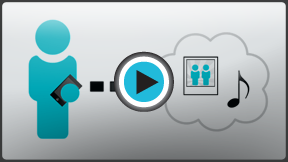 Watch the video (3:28). Need help?
You may have heard people using terms like the cloud, cloud computing, or cloud storage. But what exactly is the cloud? Basically, the cloud is the Internet—more specifically, it's all of the things you can access remotely over the Internet. When something is in the cloud, it means it is stored on servers on the Internet instead of on your computer. It lets you access your calendar, email, files, and more from any computer that has an Internet connection.
Watch the video to learn about the cloud.
The Cloud
If you've ever used web-based email, you've used the cloud. All of the emails in your inbox are stored on servers. However, there are many other services that use the cloud in different ways. Here are just a few examples:
Dropbox is a cloud storage service that lets you easily store and share files with others, and it lets you access your files from a mobile device as well.
Evernote lets you type notes, clip webpages, take photos, and organize all of them from your computer or mobile device.
There are also apps you can use that live in the cloud so you can use them without installing them on your computer. These apps are sometimes called web apps. Web apps include things like Google Docs, which allows you to create documents and spreadsheets online; and Runescape, which is a game you can play in your browser without downloading anything.