Computer Basics


Buttons and Ports on a Computer
Introduction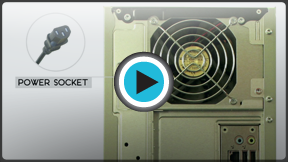 Watch the video (3:07).
Take a look at the front and back of your computer case, and count the number of buttons, sockets, and slots you see. Now look at your monitor and count any that appear there. You probably counted at least 20.
Each computer is different, so the buttons, slots, and sockets will vary from computer to computer. However, there are certain features you can expect to find on most desktop computers. Being familiar with the names of each and how they are commonly used will help you later on when you connect a new printer, mouse, digital camera, or other device.
Watch the video to learn about the buttons, sockets, and slots on a desktop computer.
Front of computer case
Click the buttons in the interactive below to become familiar with the front of a computer.
USB (Universal Serial Bus) Port
Most desktop computers have several USB ports. These can be used to connect almost any type of device, including mice, keyboards, printers, and digital cameras. They will often appear on the front and back of the computer.
Power Button
The power button is used to power the computer on and off. Additionally, you can use the power button on some computers to place the computer in different energy-saving modes such as hibernate, sleep, and standby. It is a good idea to read your manual to learn how these features work on your computer.
Audio In/Audio Out
Many computers include audio ports on the front of the computer case that allow you to easily connect speakers, microphones, and headsets without fumbling with the back of the computer.
Optical Disc Drive
Often called a CD-ROM or DVD-ROM drive, these let your computer read CDs and DVDs. Most optical disc drives can also write (or burn) data to CD-R and DVD-R discs. More recent drives can read Blu-ray discs and write to BD-R (Blu-ray disc recordable) discs, and these drives are often called BD-ROM, BD-RE, or Blu-ray drives.
A typical Blu-ray disc can hold 25 gigabytes of data, and some can hold 50 gigabytes or more. This is much more than CDs or DVDs, making BD-R discs ideal for storage.