Computer Basics


Inside a Computer
Inside a computer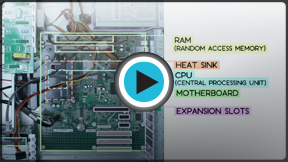 Watch the video (2:19).
Have you ever looked inside a computer case before, or seen pictures of the inside of one? The small parts may look complicated, but the inside of a computer case really isn't all that mysterious. This lesson will help you master some of the basic terminology and understand a bit more about what goes on inside a computer casing.
Watch the video to learn about what's inside a desktop computer.
A look inside a computer
Let's explore the inside of a computer tower.
CPU/processor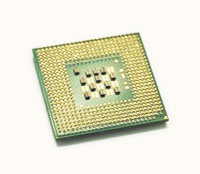 A CPU
The central processing unit (CPU), also called a processor, is located inside the computer case on the motherboard. It is sometimes called the brain of the computer, and its job is to carry out commands. Whenever you press a key, click the mouse, or start an application, you're sending instructions to the CPU.
The CPU is generally a two-inch ceramic square with a silicon chip located inside. The chip is usually about the size of a thumbnail. The CPU fits into the motherboard's CPU socket, which is covered by the heat sink, an object that absorbs heat from the CPU.
A processor's speed is measured in megahertz (MHz), or millions of instructions per second; and gigahertz (GHz), or billions of instructions per second. A faster processor can execute instructions more quickly. However, the actual speed of the computer depends on the speed of many different components—not just the processor.
There are many processor manufacturers for personal computers, but the most well-known ones are Intel and AMD.
Motherboard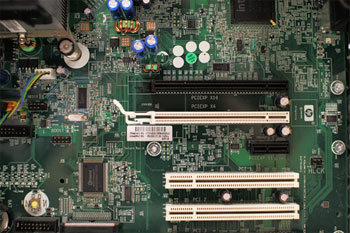 A motherboard
The motherboard is the computer's main circuit board. It's a thin plate that holds the CPU, memory, connectors for the hard drive and optical drives, expansion cards to control the video and audio, and connections to your computer's ports (such as USB ports). The motherboard connects directly or indirectly to every part of the computer.
Power supply unit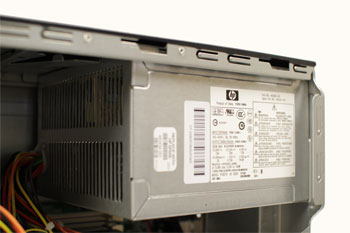 A power supply unit
The power supply unit in a computer converts the power from the wall outlet to the type of power needed by the computer. It sends power through cables to the motherboard and other components.
If you decide to open the computer case and take a look, make sure to unplug the computer first. Before touching the inside of the computer, you should touch a grounded metal object—or a metal part of the computer casing—to discharge any static buildup. Static electricity can be transmitted through the computer circuits and ruin them.