In Access 2000 adding table records is easier than you think. Just follow the instructions provided in this free lesson.
Opening an existing table
In the previous lesson, you downloaded and opened the Great Lake Elementary School database, a pre-existing database.
In this lesson, you will learn how to open an existing table and add table records.
A table is a database object.
To open an existing table:
Open the Great Lake Elementary School database window.
In the database window's Objects palette, select Tables.
Select a table and click the Open button in the database window, double-click a table, or right-click it and choose Open from the shortcut menu.
The table opens in Datasheet view.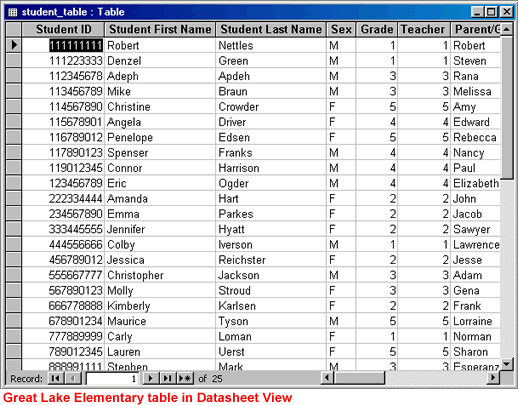 Datasheet view looks a lot like a spreadsheet. Don't be too intimidated. If you are comfortable with Excel, you'll soon be comfortable with Datasheet view.