In Access 2000 deleting table records is simpler than you think. Just follow the directions provided in this free lesson.
Challenge!
Practice deleting a table record by doing the following:
Open the Great Lake Elementary School sample database.
Open the Teachers table.
Practice selecting consecutive records using one of the methods described in the lesson.
Using the Record Selector, select the last record (it should be Regina Gibbs) in the table.
Press the Delete Record button on the toolbar. Choose Yes when prompted if you are sure you want to delete a record.
Close the Teachers table.
Note:
Some of the tables in the databases are
relational
. If you attempt to delete a related record, the following error message displays: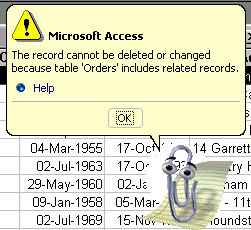 If you get this message, click OK. In the short term, don't worry about deleting the record.