In Access 2000 filtering records may seem confusing at first. This free lesson offers step-by-step instructions.
Filtering records
Sometiomes you might want to view only those records that match a specific criterion. A filter is a technique that lets you view and work with a subset of data. Applying a filter to an Access table, form, or query temporarily hides records that don't meet your search criteria. For example, you may only want to work with data pertaining to a specific zip code.
To filter by selection:
Click in the field that contains the type of data you're looking for. For example, if you are working with the Great Lake Elementary School database's Students table in Datasheet view and want to see a list of all students who live in some city, go to the City column and click in a field that contains Some City.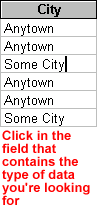 Click the Filter By Selection button.

The type of data you filtered will be visible. For example, only the students who live in Some City will be visible.
The status area shows only filtered records.