Learn about navigating the parts of an Access database, including navigating the Access window and understanding common tasks.
Exploring databases
Watch the video! (Part 1) (5:16min) (Part 2) (3:26min)
Databases in our lives
Think about all of the information we encounter on a typical day that might be organized by a database. For example, if you go shopping at a department store for a toaster, the store inventory of products is information that must be stored somewhere, along with the price of each product.

When you make a purchase, the store needs to be able to store the sales information to determine the daily sales total and how to track the decrease in inventory. A database could store this information, and it could also allow the store to quickly determine how many Brand X toasters are in inventory without needing to count inventory on the shelves.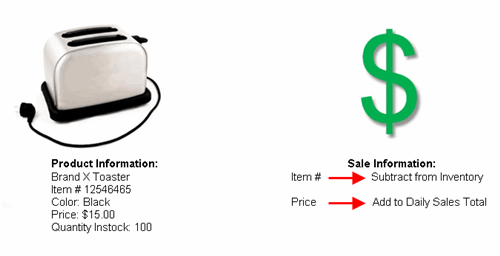 Real World Example
While this information could be managed without a database, it would be easier and more efficient to use one. Databases have an enormous impact in almost every area of our lives.

Inventory in Access Database
Think about it
Think about what is going on around you in everyday situations and whether there might be a database at work.
Grocery store: The grocery store is stocked with items. Items must be ordered, shipped, and stocked in the store. The store must pay for the items. When a customer buys items, the cash register retrieves prices and the customer pays for products. Where might databases be involved in this situation?
Restaurant: Where does the food come from? How does management know when to reorder a product? How are bills paid?
Traffic lights: Who or what controls when the lights turn red or green?
A database maintains order and structure in our lives. Databases are created using programs such as Microsoft Access 2007, which is a relational database program.