Learn about navigating the parts of an Access database, including navigating the Access window and understanding common tasks.
The Access window
Before you can begin to use a database, you need to become familiar with the Access window.

Access Window
The Ribbon
Like other software in the Microsoft Office 2007 suite, Access 2007 has a tabbed Ribbon system you use to navigate the database. The Ribbon is organized into tabs. Each tab contains groups of commands you use to perform tasks in Access.

For example, on the Home tab you'll see that there is a Font group that contains font formatting commands such as font type, size, color, and alignment. Unless you use keyboard shortcuts for everything, the Ribbon is how you get work done in Access.

Tabbed Ribbon
The Quick Access toolbar
Once you are familiar with Access, you may find that there are commands you use more often than others. To make it easier to use these commands, you can add them to the Quick Access toolbar. By default, the toolbar appears above the Ribbon on the left side of the Access window and includes the Save, Undo, and Redo commands.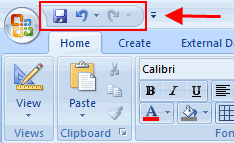 Quick Access toolbar
The Microsoft Office button
The Microsoft Office button is located in the upper-left corner of the Access window and includes key menu options such as New, Save, and Print. From this menu, you can also change your Access Options.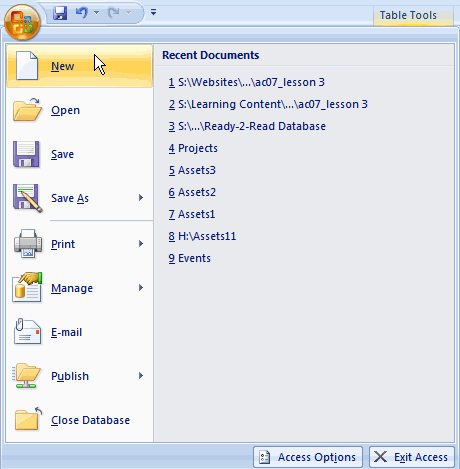 Microsoft Office button
The navigation pane
The main control center of each Access database is the navigation pane. It shows you what is in the database and makes the information accessible to you. You can choose to close the navigation pane if you need more of the Access window to complete specific tasks.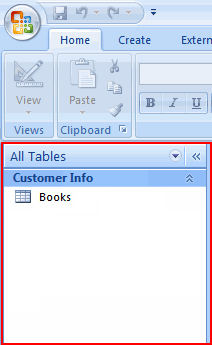 Navigation Pane
To open and close the navigation pane:
Click the Shutter Bar button on the right side of the navigation pane.

Shutter Bar Button
The navigation pane appears as a single column when it is collapsed.

Navigation Pane Closed