Get Access form design tips and Access form design ideas you can use to make Access forms more attractive in this free lesson.
Working with titles
One of the easiest things to change on the form is the title, which appears in the form header with the icon or logo.
To change the form title:
Click the Title command in the Controls group on the Ribbon.




Title Command

When the title highlight appears, type the new title, then hit the Enter key on your keyboard.
Note: The title does not affect the name of the form, and vice versa.
Changing text on the form
Access, like all Microsoft Office 2007 products, allows you to change the font style, text size, text color, and alignment. It also lets you apply bold, italics, or underline to the text. All of this is done from the Ribbon, as seen in the diagram below.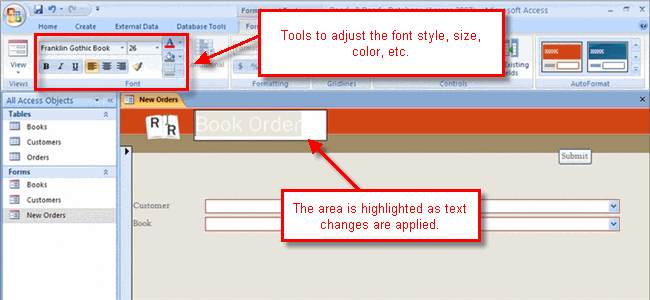 Text Formatting Commands
To modify text:
Highlight the text.
Apply the desired format by doing one or more of the following:

Select the desired font style from the font face drop-down list.
Set the size of the text using the font size selection list.
Choose a color for the text using the font color selector.
Apply either the bold, italics, or underline style.
Additional text formatting options are available in the Font group. The above list includes the most common text modifications.