Become familiar with the Access database environment, including Access help with the ribbon, navigation forms, and more.
Backstage view
Backstage view gives you various options for opening, saving, printing, and viewing more information about your database. It is similar to the Office Button Menu from Access 2007 and the File Menu from earlier versions of Access. However, unlike these menus, it is a full-page view, which makes it easier to work with.
To get to Backstage view:
Click the File tab.

Backstage view in Access 2010

You can choose an option on the left side of the page.
To get back to your database objects, click any tab on the Ribbon.
Click the buttons in the interactive below to learn about the different things you can do in Backstage view.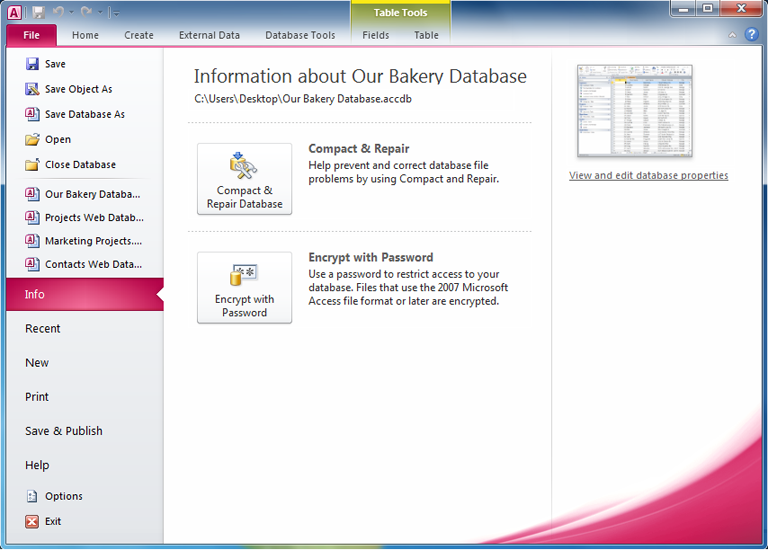 Options
In the Options pane, you can change various Access options. For example, you can choose a form to automatically display when your database is opened or modify the default cell and font style.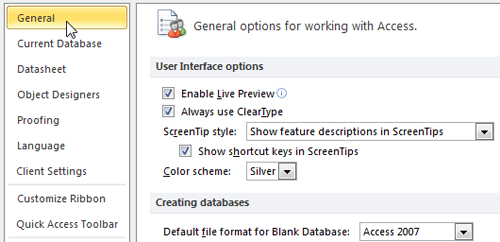 Help
From the Help pane, you can access Microsoft Office Help or check for updates to your software.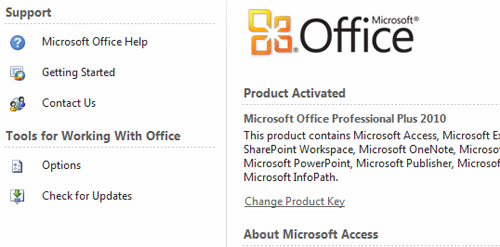 Save & Publish
Save & Publish provides advanced options for saving your database.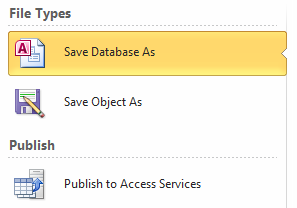 Print
The Print pane contains options for printing the current object in your database.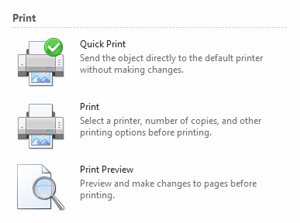 New
From the New pane, you can create a new database from scratch, or you can choose from a selection of templates.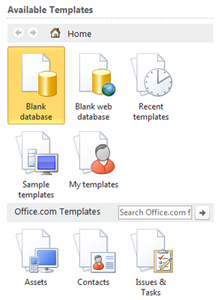 Recent
The Recent pane displays a more complete list of recently opened databases. It also contains an option to change the number of recent databases that are displayed in the shortened list above.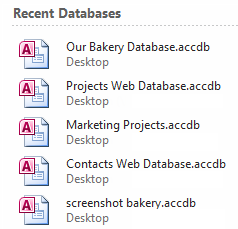 Info
Info contains information on your database. It also contains options that let you compact and repair your database to fix file problems and encrypt it with a password.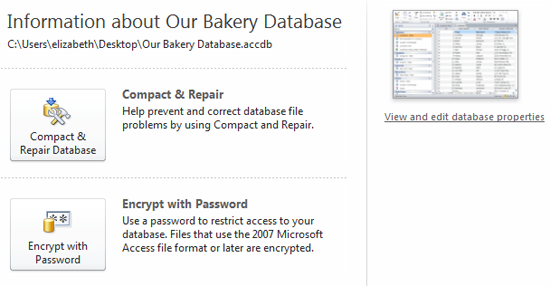 Recently Opened
The last four databases opened are displayed here for easy access.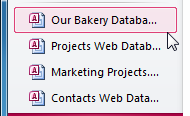 Save, Open, and Close
Various commands that let you save, open, and close objects and databases are now found in Backstage view.
Note that Save saves only the current object, not the entire database.