When working with an Access database you're working with many Access objects simultaneously. Learn to manage them here.
Opening and closing databases
Before you enter data or otherwise modify your objects, you will have to open your database. After you've made changes to your database, you'll need to know how to close it.
To open an existing database:
Click the File tab. This takes you to Backstage view.
Select Open. A dialog box will appear.

Opening a database

Locate and select the desired database, then click Open.

Selecting a database to open

One or more warning messages may appear when you open your database.

If the database contains customized functions, a yellow bar with a security warning may appear below the Ribbon. If you trust the source of your database, click Enable Content for your database to display correctly.

Enabling customized functions and other content for the database


After enabling all content in the database, you may see a message asking if you want to make the database a Trusted Document. Click Yes if you would like all content to be automatically enabled each time you open the database.

Choosing to make the file a Trusted Document

You may be prompted to log in to the database. Select your name from the list. If your name does not appear, click New User to enter your information.

Logging in to a database
If you have opened the existing database recently, it may be easier to look for your database in the short list that appears in the sidebar or to select Recent and choose a database from the list that appears.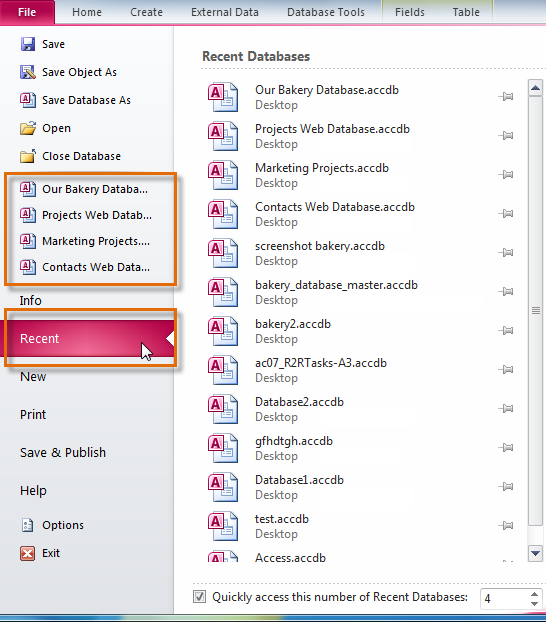 Opening a recently opened database

To close a database:
Click the File tab to go to Backstage View.
Select Close Database.

Closing a database

If you have any unsaved objects, a dialog box will pop up for each one asking if you want to save it. Select Yes to save the object, No to close it without saving, or Cancel to leave your database open.

Saving changes to unsaved objects