If you're considering buying Office 2013 there are a few things you should know first.
Office 2013 purchasing options
If you're considering purchasing or upgrading to Office 2013, you'll need to compare different pricing options to help choose the Office that's right for you. Review the infographic below to learn more about the cost and features of the different versions of Office 2013.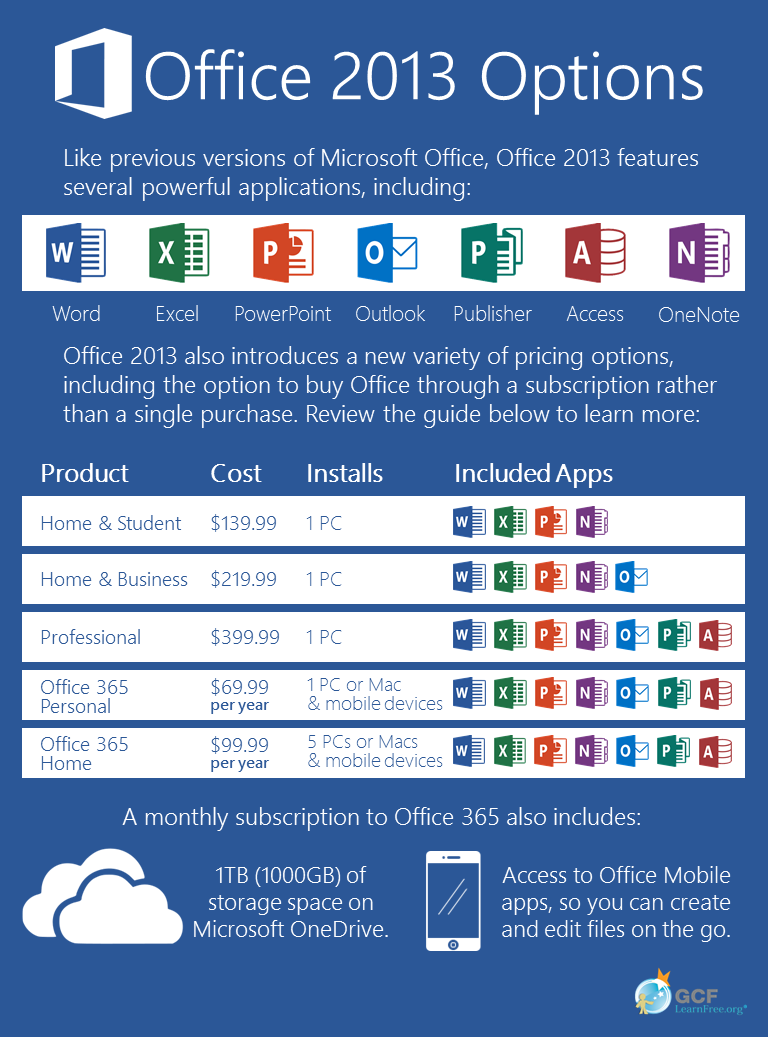 Which version of Office is right for me?
If you're still not sure which version of Office you want, take some time to think about the features that are most important to you and how they fit into your budget. Below are some questions you may want to ask yourself:
Do I just need Word, Excel, and PowerPoint, or do I need the entire Office suite? If you only need the core Office applications, it may be best to buy Office Home & Student because it's the cheapest option over the long term. If you need advanced programs like Access, you'll need either Office Professional or Office 365.
Do I want to install Office on more than one computer? If your household has several computers, you may want to get an Office 365 Home subscription. Office 365 Personal and the nonsubscription versions can only be installed on one computer.
Will I do a lot of editing on the go? If you want to edit Office documents on the go, Office 365 may be your best option because it will give you access to Office mobile apps. However, keep in mind that you can do basic editing in a web browser with Office Online even if you don't own a copy of Office.
Student and business pricing
Microsoft offers discounts for the Office 2013 suite to college students and businesses. Check out Office 365 University and Office for Business to learn more.
How to buy Office 2013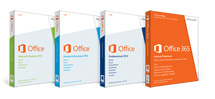 Office 2013
Office 2013 and Office 365 are available directly from the Microsoft Store, as well as through retailers like Amazon.
Office 365 is also available for a free trial, which can help you decide if it's right for your needs.
For more help making a decision, you can always ask an associate at your local Microsoft Store for advice. Alternatively, you can call 1-800-MY-MS-STORE for more information about the product you're interested in.