In Access XP adding form records may seem confusing at first. This free lesson offers step-by-step instructions.
Using the contact management main switchboard
The contact management database has been created so you may never need to access a table in Datasheet view. Forms have been created and linked together in a menu structure to allow you to navigate quickly and easily to different forms. These forms collectively retrieve information from or are used to input and update records in any given table in the contact management database.
To open a form using the main switchboard form:
The main switchboard form automatically loads each time the contact management database is opened. You can manage all contact information in the database by using any of the forms linked to the switchboard.
The Main Switchboard form lists five options:
Enter/View Contacts is selected to enter contact information or the specifics about any given phone call in the database.
Enter/View Other Information is an administrative function that allows you to define contact types, such as family, friends, and relatives.
Preview Reports provides access to different reports.
Change Switchboard Items (will not be discussed in this tutorial).
Exit this database is selected to exit the contact management database.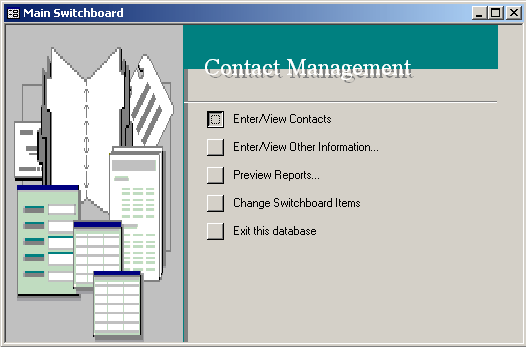 To display any of the contact management subforms:
Click the option you want to access. For example, click the Enter/View Contacts menu selection to add new records to the contact management database.