Conducting salary research is essential when exploring careers. Use the information in this free lesson to start exploring salaries.
Salary research resources
Researching salary information used to be a difficult task, but several online resources have made the process much easier. Still, it's important to note that you should not depend too heavily on a single source as you conduct your research. Using multiple resources will give you a broader understanding of an industry and will allow you to develop more realistic expectations about the kind of salary you're likely to earn.
Try using some of the salary resources listed below: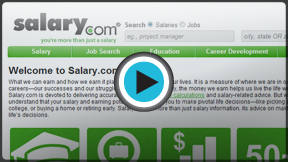 Watch the video (4:02).
Salary.com is one of the most popular resources for finding U.S. salary information. Beyond basic salary information, the results include benefits and estimates of net or take-home pay.
Watch the video for a demonstration of Salary.com.
MyPlan is a simple salary calculator for U.S. jobs that can provide you with a good starting point as you gather salary information about different positions.
CareerOneStop allows you to see salary averages for different occupations as compiled by the U.S. Bureau of Labor Statistics. You can compare national salary averages against your location, see hourly wage rates, and more.
GlassDoor is perhaps the most globally focused salary research tool available today. You can search for salary information at specific companies around the world and can read employee reviews to learn what it's really like to work for different employers.
Look up the average salary for an accountant using two of the resources above.
Are the results similar, or do they vary?
What is the difference between the average and entry-level salary?
What could you expect to earn after gaining more experience in the field? Are there opportunities for salary growth and advancement?
Building realistic expectations
As you research salary information for different careers, be sure to think about all of the variables involved in a salary estimate. If you're not careful, you might end up with unrealistic salary expectations, which can do more harm than good. For example, while the average salary for a position might be $40,000 per year, you shouldn't expect to earn that much if you're just starting a career in the field.

You should consider the kind of salary you expect to earn as you gain more
experience
. Some positions have a clear hierarchy and structure with opportunities for growth, while others don't leave much room for
advancement
. Think about the kind of salary you can expect to earn after
five
years
in a career and if it will meet your financial needs.

It's also important to think about the added value of certain benefits, such as health insurance and retirement. While it may be tempting to pursue a career based entirely on a salary estimate, a generous benefits package can sometimes outweigh a high salary.

By taking a careful and considered approach to your salary research, you'll be able to build realistic and useful salary expectations.