Get to know your camera better in this digital cameras tutorial, which offers basic and more advanced photography tips.
Using scene modes
Many cameras include presets called scene modes, which you can access from your camera's menus or from a dial at the top. Each scene mode is geared toward a specific situation (or scene). For example, the Sports scene mode will use a faster shutter speed, and it may also use motion detection to help reduce blur. On the other hand, the Portrait scene mode is designed to easily focus on your subject, and it also adjusts the color balance so skin tones look as natural as possible.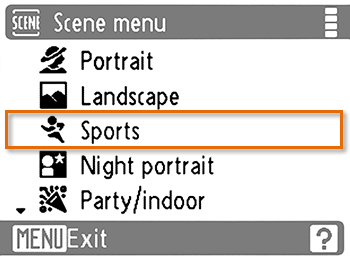 Selecting the Sports scene mode
If you don't use a scene mode, your camera will still make automatic adjustments to try to make the photo look good. However, scene modes are a great way to take more successful photos, so it's a good idea to use them as much as possible.