Adding and Managing Favorites
Learn how to use the Microsoft Edge favorites features to add and manage your most visited websites.
Managing favorites
If you'll be using your favorites regularly, you may want to learn how to organize them so they're easy to access. Grouping favorites into folders will make it easier to find the one you need.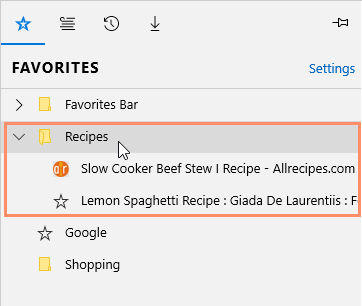 To create a folder:
Click the Hub button, then select the Favorites tab.

Right-click in the Favorites pane, then select Create new folder.

A new folder will appear. Type a name for the folder, then press Enter. The new folder will now appear in the Favorites menu.

You can then click and drag favorites into the new folder.
To delete favorites and folders:
From the Favorites tab in the Hub, locate the favorite or folder you want to delete, then right-click and select Delete.

The favorite or folder will be deleted.