Aligning Text
When working in Excel 2000 aligning text can be accomplished using the steps provided in this free lesson.
The Format Cells dialog box: Understanding the Alignment tab
You can use the Wrap Text, Shrink to Fit, and Merge cells commands to display text (labels) in cells.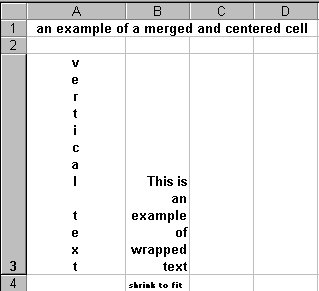 To display a vertical title across several cells:
Select the title and several cells below it.
Choose FormatCells from the menu bar.
Click the Merge Cells check box to merge the cells.
Shrink to Fit shrinks the size of the font so it fits in the selected cells.
Wrap Text wraps the contents of a cell in case it's too large for the cell boundaries.