Excel charts let you illustrate your workbook data graphically to see trends. Learn how to edit charts in Excel in this free lesson.
Formatting the value and category axes
You have several options when formatting the value and category axes of your chart. In addition to changing font, color, and style, you can adjust the numbers on the scale of the chart.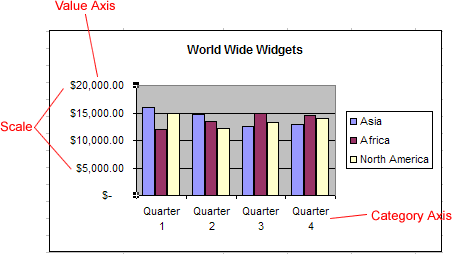 To format a chart axis:
Select the axis you want to edit.
Click the format button on the Chart toolbar, or double-click the chart axis.
Use the different tabs of the Format Axis dialog box to apply formatting.
Click OK.

You can also use the angle axis buttons

on the Chart toolbar to change the angle of the value and category axes.