In Excel page setup options can help you make your worksheet look more professional. Learn all about using the page setup feature in Excel here.
Page orientation and paper size
If your spreadsheet is wider than it is tall, change the page orientation or paper size.
The default paper size is 8.5x11 inches, or portrait. Changing to landscape orientation prints the longer side of the paper at the top (11x8.5 inches), allowing room for extra columns.
To change page orientation:
Choose FilePage Setup from the menu bar.
Click the Page tab.
Choose an orientation (portrait or landscape).
THEN
Click the down arrow to the right of the Paper size list box. A list of available paper size options appears.
Click the paper size you want to use.
Click OK.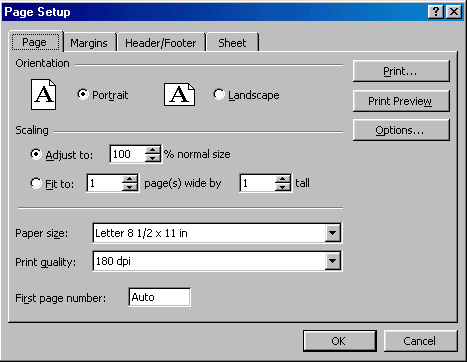 You can shrink spreadsheet data so it fits on a specified number of pages when you print. Click the Page tab, click the Fit to: option button, and enter the desired number of pages wide and pages tall.

Print quality is measured in dpi, or dots per inch. High dpi gives you a higher resolution and a better print quality. However, it takes longer to print.