Moving, Copying, and Deleting Cell Contents
Basic formatting in Excel can customize the look and feel of your Excel spreadsheet. Learn how to move, copy, and delete Excel cells here.
Challenge!
Open your Monthly Budget file.
Move the word Insurance from cell A7 to A4 and the word Cable from A4 to A7 using the Cut, Copy, and Paste and drag-and-drop features you learned in this lesson.
Type January in C1.
Type the corresponding amounts for your monthly expenses and income in Column C.

In cell C2, type your Rent/Mortgage bill amount.
In cell C3, type your Car Payment amount.
In cell C4, type your Insurance bill amount.
In cell C5, type your Power bill amount.
In cell C6, type your Phone bill amount.
In cell C7, type your Cable bill amount.
In cell C8, type your Credit Card bill amount.
In cell C9, type your Grocery/Food bill estimate.
In cell C10, type your Gas bill estimate.
In cells C11-C14, type the amount of any additional bills you have listed.
In cell C16, type your Income.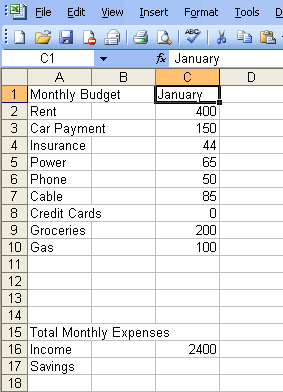 Save and close the Monthly Budget file.Note: Be sure to leave cells C15 and C17 blank.