Use pivot tables in Excel for stronger data analysis. This Excel pivot table tutorial also helps you summarize data.
PivotTable reports
Watch the video! (10:41 min)
Download the example to work along with the video.
Why are they named PivotTables?
You may be wondering why it is called a PivotTable. Basically, PivotTables allow you to pivot, or move, data so you can produce answers to questions. Once you create a PivotTable, you can very easily see what effect pivoting the data has on the spreadsheet information.
To create a PivotTable report (Part I):
Select the cells in your spreadsheet that you want to use in the PivotTable report.
Select the Insert tab.
Click the PivotTable command.
Click PivotTable again. Excel selects cells in the actual spreadsheet, and the Create PivotTable dialog box opens.

Select a table or range is already selected, and the Table/Range field shows the range of the selected data. New Worksheet is also selected by default as the place where the report will be placed.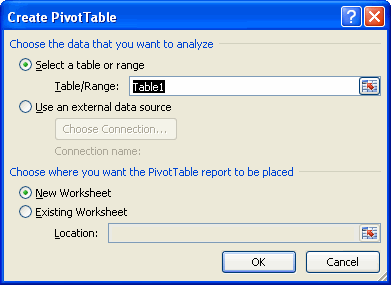 Click Existing Worksheet, then select a worksheet if you do not want the PivotTable to appear in a new worksheet.
Click OK.