Formatting Excel tables can improve how your spreadsheet looks. Use the table function in Excel to also better organize content.
Formatting tables
Watch the video! (3:45 min)
To format information as a table:
Select any cell that contains information.
Click the Format as Table command in the Styles group on the Home tab. A list of predefined tables will appear.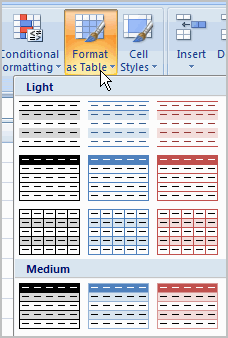 Left-click a table style to select it.
A dialog box will appear. Excel has automatically selected the cells for your table. The cells will appear selected in the spreadsheet, and the range will appear in the dialog box.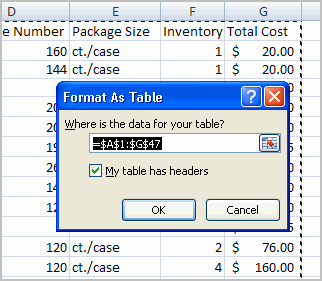 Change the range listed in the field if necessary.
Verify that the box is selected to indicate your table has headings, if it does. Deselect this box if your table does not have column headings.
Click OK. The table will appear formatted in the style you chose.
By default, the table will be set up with the drop-down arrows in the header so you can filter the table if you wish.
In addition to using the Format as Table command, you can select the Insert tab and click the Table command to insert a table.