Printing in Excel can sometimes be complicated. Learn about Excel printing, including setting the right print area, in this lesson.
Preparing to print and printing
Watch the video! (10:14 min)
Download the example to work along with the video.
To view the spreadsheet in Print Preview:
Left-click the Microsoft Office button.
Select Print.
Select Print Preview. The spreadsheet will appear in Print Preview view.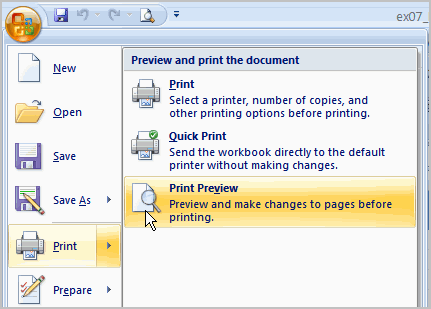 Click the Close Print Preview button
to return to the Normal View.
To make previewing your spreadsheet easier, add the Print Preview command to the Quick Access toolbar.
Exploring Print Preview
Once you are in Print Preview, you can access many of the same features that you can access from the Ribbon; however, in Print Preview you can see how the spreadsheet will appear in printed format.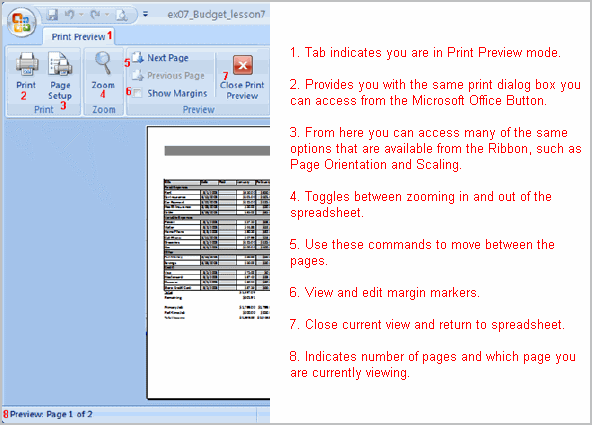 To modify margins, column width, or row height while in Print Preview:
Click the Print Preview command on the Quick Access toolbar, or select Print Preview from the Microsoft Office button menu. The spreadsheet opens in Print Preview mode.
Hover your cursor over one of the black margin markers until a double arrow appears.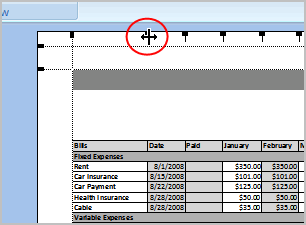 Left-click and drag the marker to the desired location. The change will be reflected in the spreadsheet.
To modify margins:
Select the Page Layout tab.
Left-click the Margins command.
Choose one of the pre-defined settings, or enter custom margins.