Printing in Excel can sometimes be complicated. Learn about Excel printing, including setting the right print area, in this lesson.
To change page orientation:
Select the Page Layout tab.
Left-click the Orientation command.
Select either Portrait or Landscape.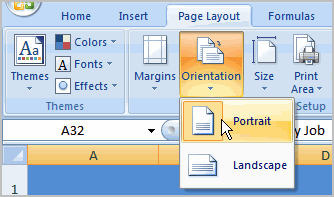 Portrait orients the page vertically, while Landscape orients the page horizontally.
To use Scale to Fit:
Select the Page Layout tab.
Locate the Scale to Fit group.
Enter a specific height and width, or use the percentage field to decrease the spreadsheet by a specific percent.
Scale to Fit is a useful feature that can help you format spreadsheets to fit on a page. However, be careful with how small you scale the information—it can become difficult to read!
To change the paper size:
Select the Page Layout tab.
Click the Size command.
Select a size option from the list.
To define a print area:
Left-click, then drag your mouse to select the cells you wish to print.
Click the Print Area command.
Choose Set Print Area.

Now, only the selected cells will print. You can confirm this by viewing the spreadsheet in Print Preview.
To return to the default setting, which is the entire worksheet, click the Print Area command, then select Clear Print Area.