Printing in Excel can sometimes be complicated. Learn about Excel printing, including setting the right print area, in this lesson.
To insert a break:
Select a cell below where you want the break to appear.
Select the Breaks command.
Select Insert Break.
Click Print Preview to confirm that the break appears in the correct place in your spreadsheet.
To use the Print Titles command:
This is an important command to be familiar with if you intend to print your worksheets. It allows you to select specific rows and/or columns that will be repeated on each printed sheet. Imagine how difficult it would be to read page 48 of a printed spreadsheet if the column and row headings only appeared on the first page.
Select the Page Layout tab.
Click the Print Titles command. The Page Setup dialog box appears.
Click the icon at the end of the field.

Select the first row in the spreadsheet that you want to appear on each printed page.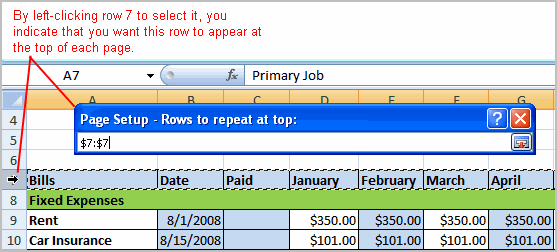 Repeat for the column, if necessary.
Click OK.
To print from the Microsoft Office button:
Left-click the Microsoft Office button.
Select PrintPrint. The Print dialog box appears.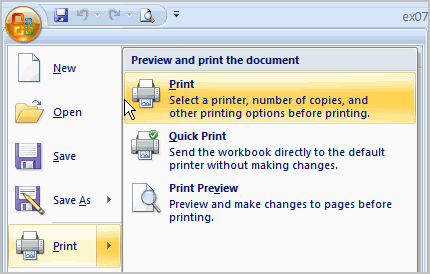 Select a printer if you wish to use a printer other than the default setting.
Click Properties to change any necessary settings.
Choose whether you want to print specific pages, all of the worksheet, a selected area, the active sheet, or the entire workbook.
Select the number of copies you'd like to print.
Click OK.
You can select Quick Print to bypass the Print dialog box.