The Excel sort function and Excel filter function are highly useful when working with large amounts of data.
Filtering cells
Filtering, or temporarily hiding, data in a spreadsheet is simple. This allows you to focus on specific spreadsheet entries.
To filter data:
Click the Filter command on the Data tab. Drop-down arrows will appear beside each column heading.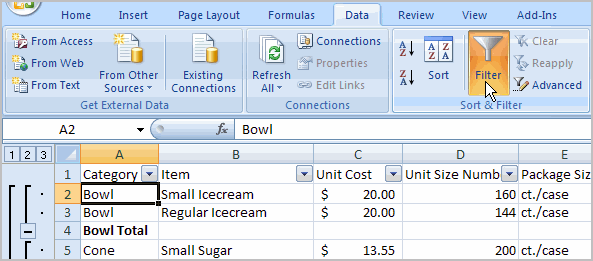 Click the drop-down arrow next to the heading you would like to filter. For example, if you would like to only view data regarding Flavors, click the drop-down arrow next to Category.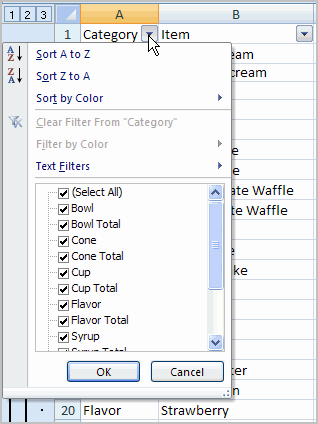 Uncheck Select All.
Choose Flavor.
Click OK. All other data will be filtered, or hidden, and only the Flavor data is visible.
To clear one filter:
Select one of the drop-down arrows next to a filtered column.
Choose Clear Filter From...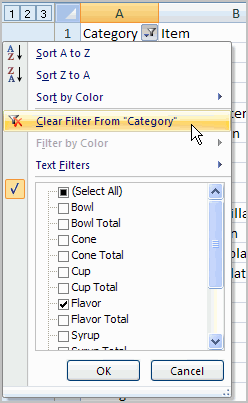 To remove all filters, click the Filter command.
Filtering may look a little like grouping, but the difference is that now you can filter on another field if you want to. For example, let's say you want to see only the vanilla-related flavors. Just click the drop-down arrow next to Item, then select Text Filters. From the menu, choose Contains because you want to find any entry that has the word vanilla in it. A dialog box appears. Type vanilla, then click OK. Now we can see that the data has been filtered again and that only the vanilla-related flavors appear.