Working with Basic Functions
When using Excel functions play an important role in finding values for a range of cells. Learn all about using functions in Excel.
To calculate the sum of a range of data using AutoSum:
Select the Formulas tab.
Locate the Function Library group. From here, you can access all available functions.
Select the cell where you want the function to appear. In this example, select G42.
Select the drop-down arrow next to the AutoSum command.
Select Sum. A formula will appear in the selected cell, G42.

This formula, =SUM(G2:G41), is called a function. The AutoSum command automatically selects the range of cells from G2 to G41, based on where you inserted the function. You can alter the cell range if necessary.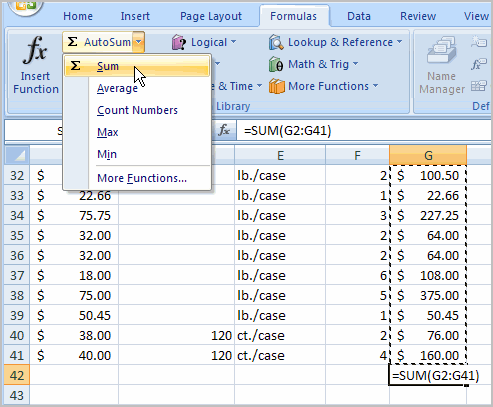 Press the Enter key or Enter button on the formula bar. The total will appear.
Excel will not always tell you if your formula contains an error, so it's up to you to check all of your formulas. To learn how to do this, read the Double-Check Your Formulas lesson from our Excel Formulas tutorial.
To edit a function:
Select the cell where the function is defined.
Insert the cursor in the formula bar.
Edit the range by deleting and changing necessary cell numbers.