Excel charts let you illustrate your workbook data graphically to see trends. Also use charts in Excel to visualize comparisons.
Chart tools
Once you insert a chart, a new set of Chart Tools, arranged into three tabs, will appear above the Ribbon. These are only visible when the chart is selected.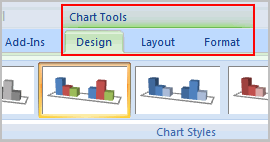 To change the chart type:
Select the Design tab.
Click the Change Chart Type command. A dialog box appears.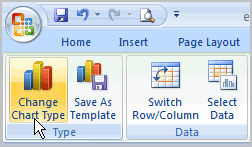 Select another chart type.
Click OK.
The chart in the example compares each salesperson's monthly sales to his or her other months' sales; however, you can change what is being compared. Just click the Switch Row/Column Data command, which will rotate the data displayed on the x and y axes. To return to the original view, click the Switch Row/Column command again.
To change chart layout:
Select the Design tab.
Locate the Chart Layouts group.
Click the More arrow to view all of your layout options.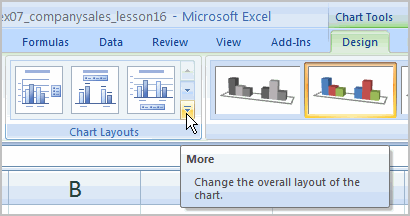 Left-click a layout to select it.
If your new layout includes chart titles, axes, or legend labels, just insert your cursor into the text and begin typing to add your own text.