Working with Charts
Excel charts let you illustrate your workbook data graphically to see trends. Also use charts in Excel to visualize comparisons.
To change chart style:
Select the Design tab.
Click the More drop-down arrow in the Chart Styles group to see all of the available styles.

Viewing all of the Chart Styles

Select the desired style.

Selecting a chart style

The chart will update to reflect the new style.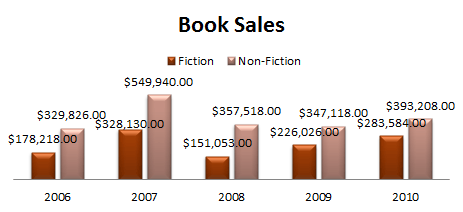 The updated chart
To move the chart to a different worksheet:
Select the Design tab.
Click the Move Chart command. A dialog box appears. The current location of the chart is selected.

The Move Chart command

Select the desired location for the chart (choose an existing worksheet, or select New Sheet and name it).

Selecting a different worksheet for the chart

Click OK. The chart will appear in the new location.