In Excel basics are essential to better understand this spreadsheet program. Use this worksheet basics lesson for Excel help.
To move a worksheet:
Click the worksheet you want to move. The mouse will change to show a small worksheet icon .
Drag the worksheet icon until a small black arrow appears where you want the worksheet to be moved.

Moving a worksheet

Release your mouse, and the worksheet will be moved.

Moved worksheet
To color code worksheet tabs:
You can color worksheet tabs to help organize your worksheets and make your workbook easier to navigate.
Right-click the worksheet tab you want to color. The worksheet menu appears.
Select Tab Color. The color menu appears.
Select the color you want to change your tab.

Changing the worksheet tab color

The tab color will change in the workbook. If your tab still appears white, it is because the worksheet is still selected. Select any other worksheet tab to see the color change.

Worksheet tab color changed
Switching between worksheets
If you want to view a different worksheet, you can simply click the tab to switch to that worksheet. However, with larger workbooks this can sometimes become tedious, as it may require scrolling through all of the tabs to find the one you want. Instead, you can simply right-click the scroll arrows in the lower-left corner, as shown below.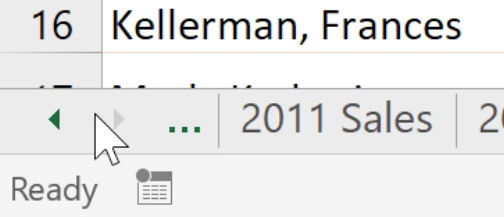 A dialog box will appear with a list of all of the sheets in your workbook. You can then double-click the sheet you want to jump to.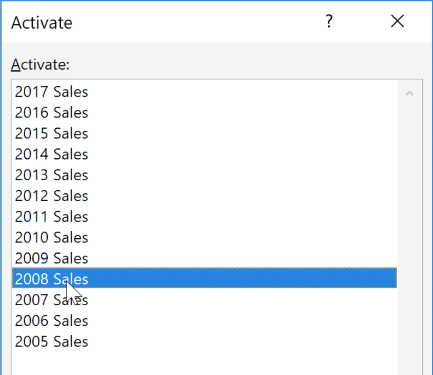 Watch the video below to see this shortcut in action.