This Excel 2013 tutorial includes everything you need to know to get started with Microsoft Excel.
Worksheet views
Excel 2013 has a variety of viewing options that change how your workbook is displayed. You can choose to view any workbook in Normal view, Page Layout view, or Page Break view. These views can be useful for various tasks, especially if you're planning to print the spreadsheet.
To change worksheet views, locate and select the desired worksheet view command in the bottom-right corner of the Excel window.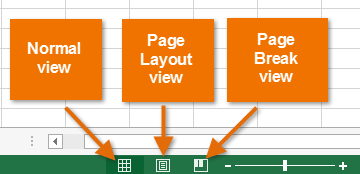 Worksheet view options
Click the arrows in the slideshow below to review the different worksheet view options.
Normal view: This is the default view for all worksheets in Excel.

Page Layout view: This view can help you visualize how your worksheet will appear when printed. You can also add headers and footers from this view.

Page Break view: This view makes it easy to change the location of page breaks in your workbook, which is especially helpful when printing a lot of data from Excel.