Use pivot tables in Excel for stronger data analysis. This Excel pivot table tutorial also helps you summarize data.
PivotCharts
PivotCharts are like regular charts, except they display data from a PivotTable. Just like regular charts, you'll be able to select a chart type, layout, and style that will best represent the data.
To create a PivotChart:
In this example, our PivotTable is showing each person's total sales per month. We'll use a PivotChart so we can see the information more clearly.
Select any cell in your PivotTable.

Clicking a cell in the PivotTable

From the Insert tab, click the PivotChart command.

Clicking the PivotChart command

The Insert Chart dialog box will appear. Select the desired chart type and layout, then click OK.




Choosing a chart type and clicking OK

The PivotChart will appear.

The inserted PivotChart
Try using slicers or filters to change the data that is displayed. The PivotChart will automatically adjust to show the new data.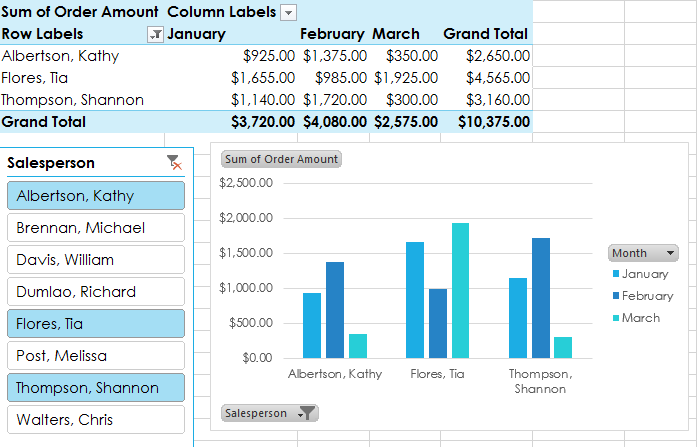 Manipulating a PivotChart