Do more with pivot tables in Excel, like manipulating data. This Excel pivot table tutorial covers slicers, filters, and pivot charts.
PivotCharts
PivotCharts are like regular charts, except they display data from a PivotTable. Just like regular charts, you'll be able to select a chart type, layout, and style that will best represent the data.
To create a PivotChart:
In the example below, our PivotTable is showing a portion of each region's sales figures. We'll use a PivotChart so we can see the information more clearly.
Select any cell in your PivotTable.
From the Insert tab, click the PivotChart command.

The Insert Chart dialog box will appear. Select the desired chart type and layout, then click OK.

The PivotChart will appear.
Try using filters or slicers to narrow down the data in your PivotChart. To view different subsets of information, change the columns or rows in your PivotTable. In the example below, we've changed the PivotTable to view the monthly sales for each salesperson.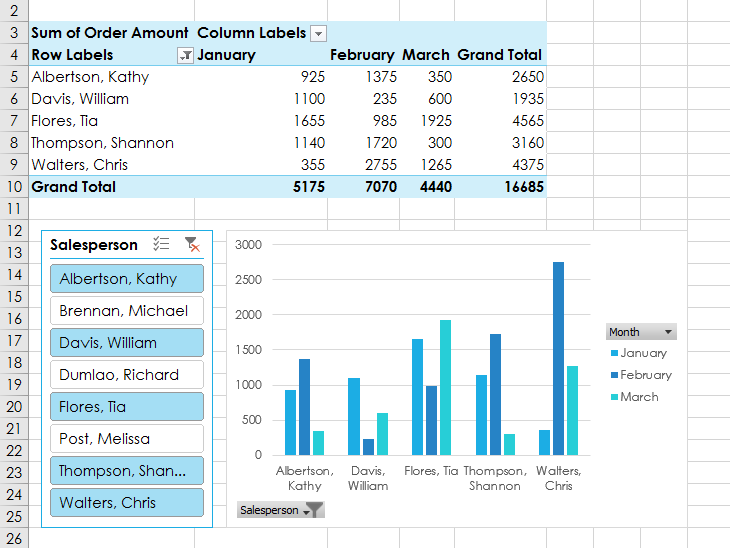 Challenge!
Open our practice workbook.
In the Rows area, remove Region and replace it with Salesperson

.

Insert a PivotChart, and choose the type Line with Markers.
Insert a slicer for Regions.
Use the slicer to only show the South and East regions.
Change the PivotChart type to Stacked Column.
In the PivotChart Fields pane to the right, add Month to the Legend (Series) area. Note: You can also click the PivotTable and then add Month to the Columns

area; the result will be the same.

When you're finished, your workbook should look something like this: