Learn how to adjust your Facebook privacy settings to change who can see your posts in this free lesson.
Timeline and tagging settings
A tag is a way to identify people on Facebook by posting their names and a link to their individual Timelines. Your friends can tag you in photos and in other posts, including status updates. Anyone who can see these posts will be able to click the tag and view your Timeline. The tagged post will also be visible on your Timeline, your News Feed, and your friends' feeds.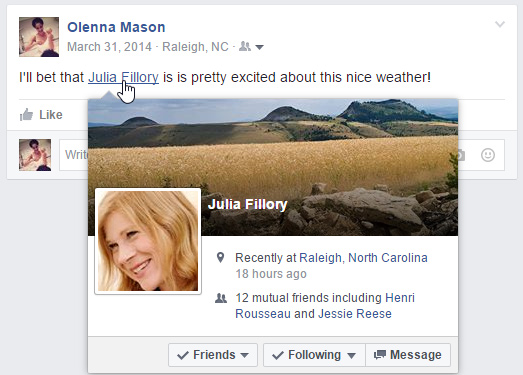 While tags make it easy to connect with your friends on Facebook, your friends may occasionally tag you in posts you don't want to share. One way to prevent yourself from being tagged in potentially embarrassing photos and posts is to manage your tagging settings.
To access these settings, navigate to the settings page, then select Timeline and Tagging.
Click the buttons in the interactive below to learn about your Timeline and Tagging settings.