Learn how to adjust your Facebook privacy settings to change who can see your posts in this free lesson.
The Activity Log
If you ever need to review or modify what you've posted in the past, you can use the Activity Log. Every action you make on Facebook—from posts to comments to likes—is recorded in the Activity Log. From here, it's easy to review your past activity. You'll also be able to manage posts your friends have shared on your Timeline, including the option to hide posts.
To access your Activity Log, navigate to your Timeline, then select Activity Log.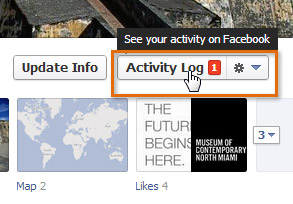 Click the buttons in the interactive below to learn more about using the Activity Log.
You can also hide and delete posts directly from your Timeline. Simply click the drop-down arrow, then select the desired option.