On Facebook sharing is a common practice. Learn all about sharing on Facebook, including getting step-by-step instructions.
Likes, comments, and resharing
Sharing isn't limited to the things you post on Facebook. You can also like, comment, and reshare the other posts and stories your friends share on Facebook.
Likes and reactions
Whenever your friends share something on Facebook, you can choose to like the post. This is just a simple way of showing your friends that you enjoyed what they shared. To like a post, simply click the Like button.

Instead of liking a post, you can respond with different illustrated emoticons, called reactions on Facebook. To do this, hover your mouse over the Like button, then select the desired reaction. If you're using a mobile device, press and hold the Like button to choose a reaction.


You can also like the Facebook page for businesses and organizations to receive updates about them in your News Feed.

Note that any Facebook page you like can be posted to your Timeline and to your friends' News Feeds. This can be mildly embarrassing or revealing, depending on your interests.

Comments
Whenever your friends share on Facebook, you can leave a comment about their posts. Your friends will be able to see whenever you comment on something, as will the friends of the person who originally shared the post. To leave a comment, simply type it in the comment box below a post, then press Enter on your keyboard.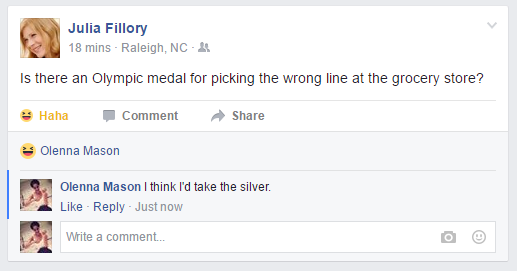 Resharing friends' posts
Facebook makes it easy reshare the things your friends post. Just click Share at the bottom of a post to share it with your other friends.