Managing Gmail accounts can seem overwhelming, but this free lesson can make it easier. Learn all about managing accounts here.
Working with labels
Labels allow you to organize your messages and make them easier to find. Applying a label to a message is like putting it into a folder, with one important difference: You can apply more than one label to a message. For example, if you received a message about a company trip, you could label it as Travel and Work. You can choose to label only the most important messages, or you can label every single one—it's up to you. You can create new labels whenever you need to, and you can also choose a color that will make the label stand out.
To apply a label to a message:
While viewing the message, click the Labels button. A drop-down menu will appear with a list of labels.
Place a check mark next to all of the labels you want, then click Apply.

Now, when you view your inbox, you'll be able to see the label next to the message subject.
To create a new label:
While viewing the message, click the Labels button, then select Create new.

Type a new label name, then click Create. The new label will be applied to the message.
Viewing labeled messages
Once you've added labels to some of your messages, you can easily view all of the messages that contain a particular label. This is where all of the time spent labeling messages pays off. For example, you may want to view messages with the label Travel so you can see everything that pertains to an upcoming trip.
To view labeled messages:
In the left menu pane, click the name of the label you want to view.

Gmail will now display only the messages containing the label you selected. The name of the label you chose will appear in the search bar.

To view all of your messages again, click Inbox in the left menu pane.
Some labels may be hidden. If you don't see the label you want, click the More drop-down arrow to view the hidden labels. From here, you can also click Manage labels to control which ones are hidden.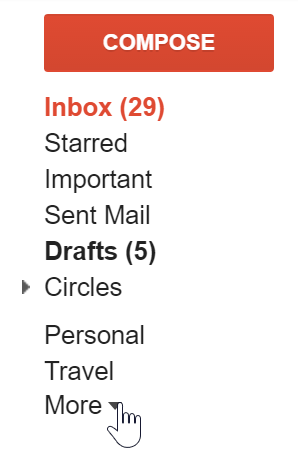 To choose a label color:
In the left menu pane, find the label you want to change.
Click the drop-down arrow to the right of the label name.

From the menu, select the desired color.

The label will update to reflect the new color.