Manage Gmail replies and learn the various options for replying to Gmail messages in this free lesson.
Conversations
Sometimes when you view an email, you'll notice that it's grouped with several other related emails. This is called a conversation. Gmail groups related emails into conversations to help keep your inbox as neat and organized as possible. Instead of selecting a single email from your inbox, you're actually selecting the entire conversation, and you can then choose to view or minimize individual emails.
When you're viewing your inbox, you can tell how many messages there are in each conversation by finding the number next to the name of the sender.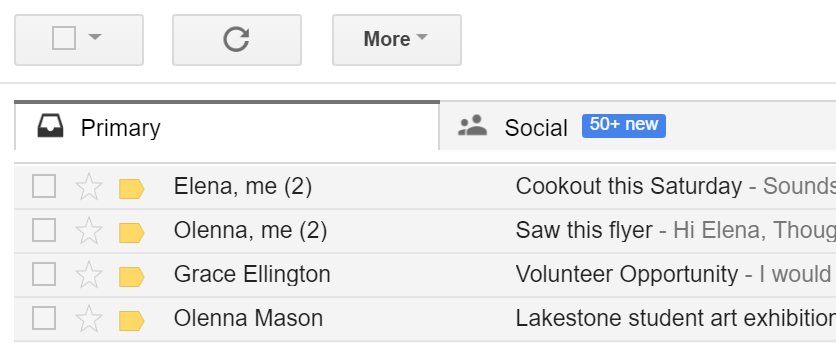 To view or minimize individual emails:
From your inbox, select a conversation.

All of the messages in the conversation will appear to be stacked on top of one another. Click a message to expand it.
Click the top part of the message again to minimize the message.
Adding a vacation reply
When you go on vacation, you may be unwilling or unable to check your email for several days or more. The email will still be in your inbox when you get back, so it may not be a problem. However, if someone sends you an urgent message that needs a response the same day, this person may not realize that you won't receive the message in time.
You can prevent this by creating a vacation reply, which will automatically send a reply to anyone who emails you. Your vacation reply can contain any message you want, but usually it will include the date you plan to return and your contact information while you are out of town (or possibly the contact information of a coworker who can handle questions while you're gone).
To add a vacation reply:
Click the gear icon in the top-right corner, then select Settings.

Scroll down until you see the Vacation responder section. Click the First day field to choose the date you want the vacation reply to start. If you want, you can also choose a Last day, but it's not required.
Type the desired subject and message.
If you want, you can place a check mark next to Only send a response to people in my Contacts. However, if you think you might receive an urgent message from someone who is not in your contacts, you can leave it unchecked. When you're finished, scroll down to the bottom of the page and click Save Changes.
When your vacation reply is active, there will be a bar at the top of the Gmail window showing your message. To end the vacation reply, click End now.

Challenge!
For this challenge, you can use an email in your inbox. If you don't have an email in your inbox, you can complete the challenge from our previous lesson and use it.
Open the email.
If your email has an attachment, try opening it.
Forward the email to yourself by using your email address as the recipient.
Star an email in your inbox.
Add a vacation reply, then send yourself an email. You can put anything in the subject and body of the email.
When you're finished, you should see both your email and your vacation reply in your inbox. Don't forget to turn off your vacation reply!