In Google Drive getting started is as simple as creating a free Google account. Use this free lesson for step-by-step instructions.
Google Drive for mobile devices
Available for both iOS and Android, the Google Drive mobile app allows you to view and upload files to Google Drive using your mobile device.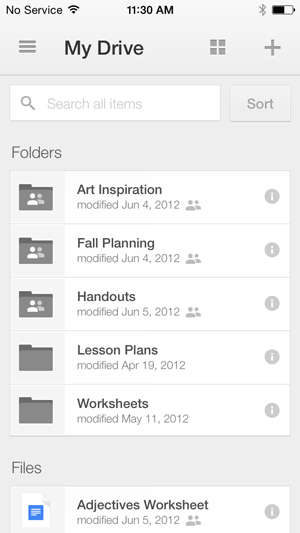 Google also has separate mobile apps for creating and editing documents, spreadsheets, and presentations. To learn more, check out Google's blog post on New mobile apps for Docs, Sheets, and Slides.
Google Drive for desktop
If you prefer to work on the desktop, you can download the Google Drive desktop app to your computer. Available for Windows and OS X, this app makes it a bit easier to upload your existing files and work offline. Once it's installed, you'll see a new Google Drive folder on your computer. Any files you move into this folder will automatically be uploaded to your Google Drive.