Manage your Google Drive files so everything is organized and where it should be. This free lesson will help you manage files in Google Drive.
Organizing your files
Once you start adding files to Google Drive, you can use folders to help organize and group them. Folders in Google Drive work just like the folders on your computer.
To create a folder:
From Google Drive, click the New button, then select Folder from the drop-down menu.

A dialog box will appear. Enter a name for your folder, then click Create.

Your folder will appear on the left below My Drive. You may need to click the drop-down arrow to see your folders.
To move files into folders:
Click and drag the file to the desired folder.

The file will appear in the selected folder.
To add multiple files to the same folder, press and hold the Ctrl key (or Command on a Mac), then click to select each desired file. When you're ready, click and drag the files to the desired folder.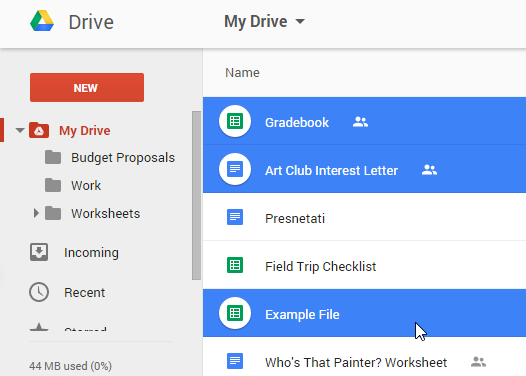 To delete a file:
Deleting a file from your Google Drive is similar to deleting a file from your computer. You will have to move the file to the Trash folder and then delete it permanently, just like you would delete a file from the Trash or Recycle Bin on your computer.
Select the file you want to delete, then click the Remove button to move the file to the Trash folder.

Select Trash in the left navigation pane.

The Trash folder will appear. Click Trash near the top of the screen, then select Empty Trash. The files will be permanently deleted.
To preview a file:
Previewing files is a great way to make sure you're opening the right version of a file or to take a quick look at files without opening them.
Select the file you want to preview, then click the Preview button.

A preview of the file will appear.
Right-clicking
Right-clicking allows you to access the full list of actions for any file. Most of the actions listed here are accessible in other places on Google Drive, but it serves as a great shortcut.