The Internet Explorer 8 web browser is among the world's most popular browsers. Learn how to browse the web with it here.
Search Bar features
Search suggestions
Internet Explorer 8 has search capabilities that provide suggestions as you enter your search terms. If you see a search suggestion you like, you can click on it without having to finish typing. This can be quite convenient.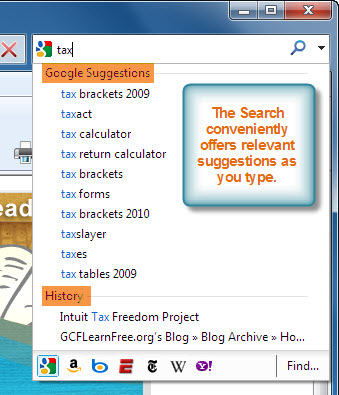 Search Suggestions
Some search providers like Bing, Amazon, and Wikipedia will show visual suggestions for you to choose from. Visual suggestions can offer you previews and answers all on their own.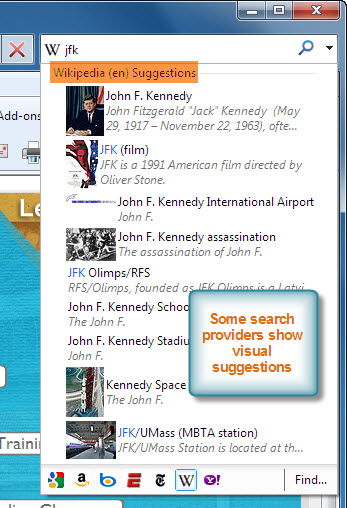 Visual Suggestions
Customize search providers
By default, the search provider in the search bar is the Bing search engine, but additional search providers can be added or changed as you desire. Maybe you prefer searching with Google or Amazon for shopping, or ESPN for sports news.
Click on the drop-down button to the right of the search bar, then select Find More Providers.

Add Search Providers

The Internet Explorer 8 Add-ons Gallery will display. Here, you can browse and select search providers to add to your search bar.
Select a provider, then click Add to Internet Explorer. The search provider will appear in your Search Bar list.

Add-ons Search Providers

Once you have added the search providers you desire, their icons will appear when you click in the Search Bar. Simply select the provider icon you desire to conduct a search.

Select Search Providers