The Internet Explorer 8 web browser is among the world's most popular browsers. Learn how to browse the web with it here.
Browsing Options
Internet Explorer 8 includes several features to make browsing the Web more convenient, such as tabs.
Navigation buttons
Internet Explorer uses four buttons for navigation: the Back, Forward, Refresh, and Home buttons.
Next to the navigation buttons, Internet Explorer has a convenient Recent Pages drop-down button that lets you choose which page you want to recall. This eliminates the need to hit the forward and back buttons numerous times before you find the page you want. It also has an option for opening History to search further back in your browsing history.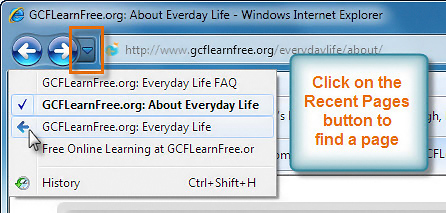 Recent Pages Button
Browsing with tabs
Like all browsers, IE allows you to open new windows to view different pages. In addition, IE allows you to open multiple websites in the same window using tabs. Tabs are usually more convenient than opening several windows at the same time.

Browser Tabs
To open a new tab:
Locate and click on New Tab.




Opening a New Tab

The What do you want to do next? page will appear with several options you can choose from. Otherwise, you can enter a new address or search to open the page you desire in a new tab.

New Tab Page Options
To make navigation easier, you can preview your tabs by clicking the Quick Tabs button and selecting the tab you desire.

Quick Tabs Preview
Tab Groups
The Tab Groups feature color codes your related tabs and arranges them next to each other. In order to use Tab Groups, you will need to open a new page by right-clicking on the desired link and selecting Open in New Tab.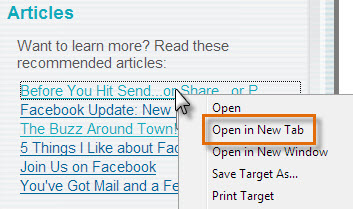 Open in New Tab
Related pages will be grouped and color coded for easier access. You can see a list of the tabs by clicking on the Tab List drop-down button.

Tab Groups