The Internet Explorer 8 web browser is among the world's most popular browsers. Learn how to browse the web with it here.
History features
Like all browsers, Internet Explorer saves your browsing history, which includes details and cookies from the sites you visit. You can search your history to find a previously viewed page or delete your history for the sake of privacy.
To access your browsing history, click the Favorites button and select the History tab.
Accessing History
In the Browsing History View, you can sort your history view by Date, Site, Most Visited, and Order Visited Today. To access Browsing History View, click the View By drop-down button, then select the desired option.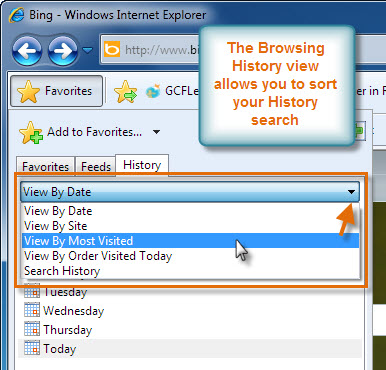 Browsing History Options
Search History is another addition to the Browsing History View. Type a keyword in the Search For: field, then click Search Now to locate matching pages in your history.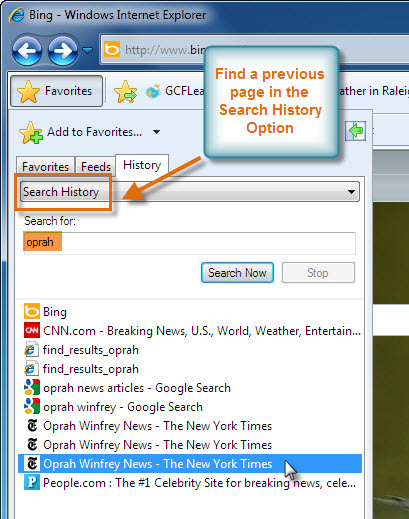 Search History Option
Delete browsing history
There may be times when you want to delete your browsing history for safety or privacy reasons. Perhaps you do not want others to view the pages you have browsed on your computer.
Click the Safety command, then select Delete Browsing History from the drop-down menu.




Delete Browsing History

The Delete Browsing History dialog box will appear.
Review and select the options you wish to delete from your browsing history. The most common are Temporary Internet Files, Cookies, and History. Internet Explorer 8 allows you to preserve the files and cookies from your Favorites sites while deleting those you do not want.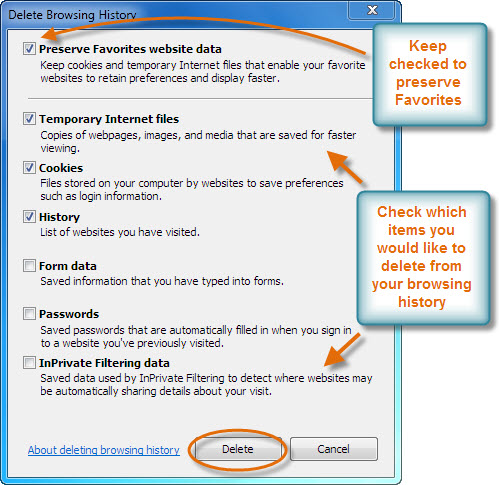 Delete Browsing History Window
You can go to the Tools command and select Internet Options to access Browsing history. From here, you can select Settings to customize options for your browsing history, including what details to record and how often to delete the history.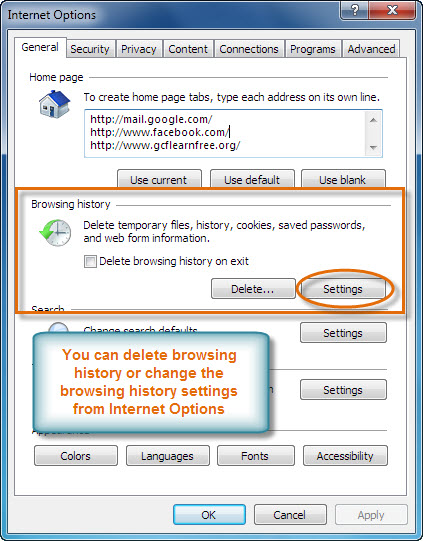 Browsing History Settings