Learn how to customize Internet Explorer 11 so the browser looks and functions how you want it to.
Internet Explorer add-ons
Add-ons add different functionality to Internet Explorer. For example, add-ons can add new search engines to the address bar, block ads, and keep you updated on current events.
To install an add-on:
Click the drop-down menu in the address bar, then select the Add button in the bottom-right of the menu.

The Internet Explorer Gallery will appear. Click search providers on the left, then select the type of add-on you're looking for.

Select an add-on to learn more about it.

You'll be taken to a page with more information on the add-on. If you want to install it, click Add to Internet Explorer.
It's important to note that add-ons are not necessarily created or approved by Microsoft. Many are created by third-party providers or even individual users, so they may not always be safe to install. We recommend reading user reviews carefully before installing an add-on.
Accelerators and web slices
Accelerators and web slices are types of add-ons that are available for Internet Explorer. Accelerators allow you to translate, search for, or map text you've selected in the browser. Web slices give you real-time updates for specific websites in your Favorites bar. For example, you could use a web slice to get quick updates on sports scores or the weather forecast.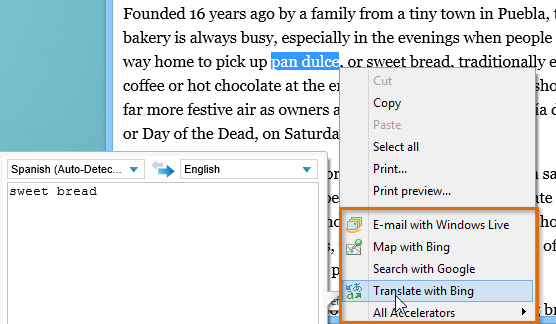 In our experience, web slices don't work consistently and aren't available for many websites, so their usefulness may be limited.
To manage add-ons:
If you don't like an add-on, the Manage Add-ons feature allows you to disable or remove it from Internet Explorer.
Click the Tools button in the top-right corner of the browser, then select Manage add-ons.

The Manage Add-ons dialog box will appear.

Select the type of add-on you want to manage on the left. A list of installed add-ons of that type will appear. From here, they can be temporarily disabled or removed.