Learn how to manage Internet Explorer 8 favorites and use Internet Explorer 8 add-ons in this free lesson.
Accelerators
In the past, if you wanted to map a restaurant or email a friend a news story, you would have to cut and paste the information into a new webpage. Accelerators have conveniently eliminated the need to take these extra steps by providing access to certain actions like mapping an address, defining a word, or emailing content within a specific page.
To use an accelerator:
Highlight the text you desire, and click on the blue Accelerator button. Some accelerators, such as maps and translators, allow you to hover over them for instant access on the page. Others require you to click to access them.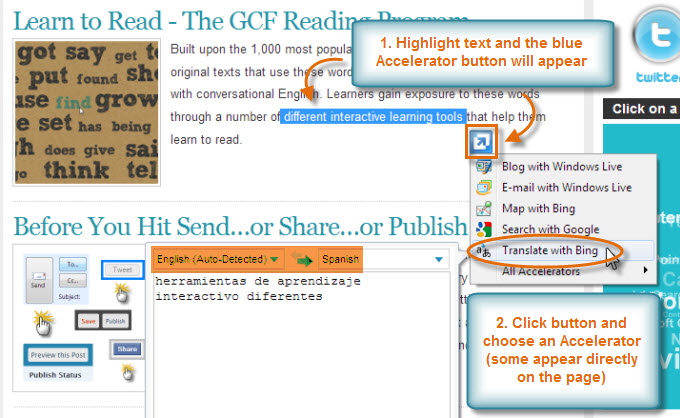 Access Accelerators
Selecting All Accelerators allows you to:
Access additional accelerators
Select Find More Accelerators to search for additional accelerators in the Add-ons Gallery
Manage your current accelerators by clicking on Manage Accelerators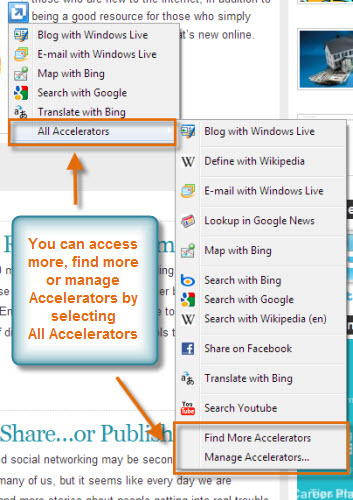 Access All Accelerators
Clicking on Find More Accelerators will take you to the Add-ons Gallery, where you can browse and select additional accelerators. Once you have selected an accelerator, click Add to Internet Explorer, and it will appear in your All Accelerators list.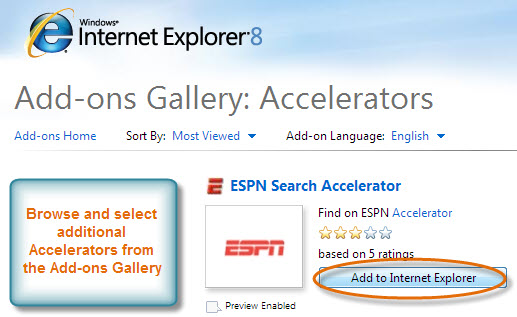 Add-ons Gallery