Learn how to manage Internet Explorer 8 favorites and use Internet Explorer 8 add-ons in this free lesson.
RSS feeds
RSS feeds are a great way to stay informed about webpages that are frequently updated like news, weather, stocks, and social networking sites. When you subscribe to an RSS feed on a webpage, you will receive up-to-date information from that site.
To subscribe to RSS feeds:
When you browse a page in Internet Explorer 8 that has an RSS feed you can subscribe to, the RSS button in the Command Bar will turn orange.
Click the RSS drop-down button, then select the desired feed or feeds.

Subscribe to RSS Feed
Once you have subscribed to a feed, you can access it in Favorites. Click the Feeds tab, then select the desired feed to open and browse its feed page.
You can click on the blue Refresh arrows to update before opening.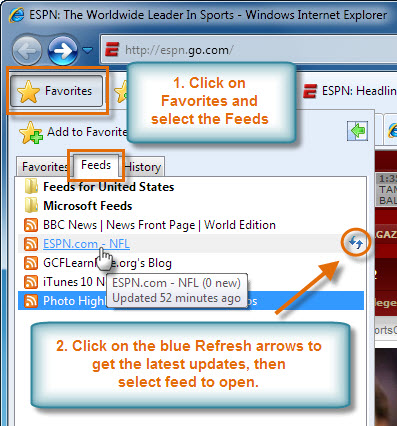 Access Feeds in Favorites
Some webpage feeds are not recognized by the feed button in the Command Bar. Look for the symbols below or the words "RSS" or "Subscribe" to find a webpage's RSS feed.

RSS Feed Symbols