Learn how to manage Internet Explorer 8 favorites and use Internet Explorer 8 add-ons in this free lesson.
Web slices
Web slices are like an enhanced RSS feed. They allow you to check frequently updated pages directly from your Favorites Bar. Microsoft has created web slices with several convenient features, including a one-click preview of content.
Adding and accessing web slices
Not all webpages have web slices, so the easiest way to search for and add them is in the Internet Explorer Add-ons Gallery.
Click the Get More Add-ons button, then select Internet Explorer Add-ons Gallery.
Select the Web Slices link from the Add-ons Gallery menu choices on the left.
Explore the web slices. If you see one you like, click on Add to Internet Explorer, and it will be placed in your Favorites Bar.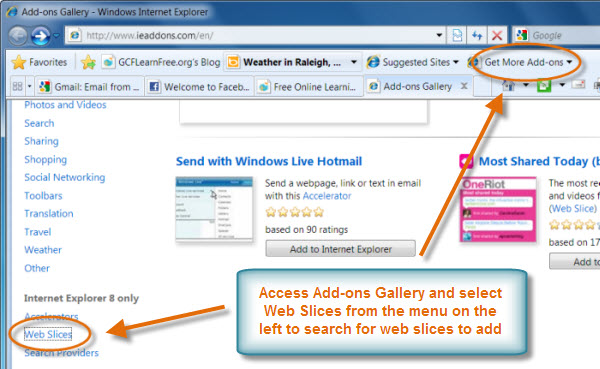 Add-ons Gallery - Web Slices
If you're browsing a page that has a web slice, the RSS button will change to the green web slice button. Additionally, you can sometimes access the web slice button directly on the page as seen in the image below. Whenever you see the green button, simply click it to add the web slice to your Favorites Bar.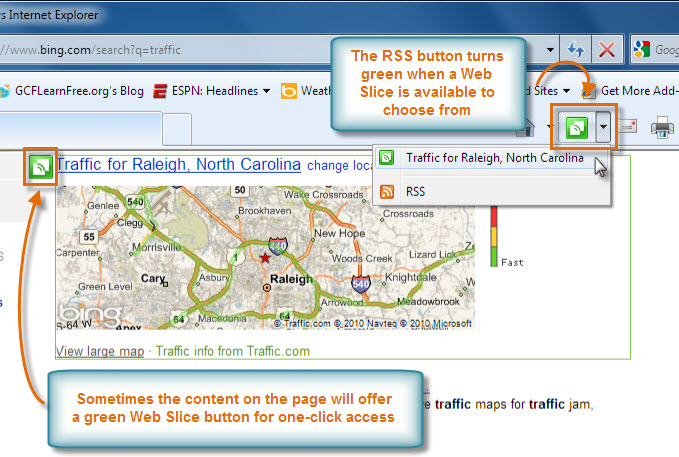 Web Slices Button
When a webpage is updated, the web slice's name appears in bold, making it easy to know when there is new content. You can click on the web slice to see a quick view of the updated information. If you want to see more, click on the links to open the page.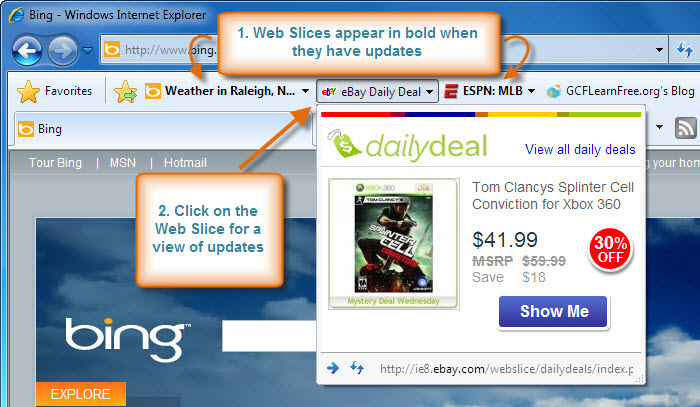 Accessing Web Slices for Updates