If you're new to Internet Explorer 8 getting started is simple. Just follow these steps to start using this popular web browser.
Customizing toolbars
Now that you have a better understanding of toolbars, you can customize them to suit your needs. You can hide toolbars, rearrange them in the browser, or change the look of the icons. You can even add, remove, and reorder toolbar buttons.
Toolbar menu and view options
Right-click in the toolbar area to access the Toolbar menu. Click the box to the left of each toolbar to hide or show it in the browser.
Toolbar Menu
If you want to rearrange the placement and view of toolbars, uncheck the Lock the Toolbar option. You can then click the dotted line to adjust the view of the toolbar. You can also click and drag toolbars to adjust their placement in the browser.

Reduce or Expand Toolbars
Customizing the toolbar
There are several options for customizing the view of the buttons, icons, and text in the toolbar. Select Customize from the Toolbar menu, then adjust the settings as desired.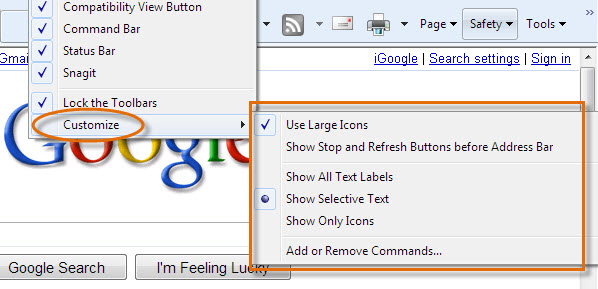 Customize Toolbar Options
To add or remove commands:
Click Add or Remove Commands from the Customize options.
As desired, select a toolbar button, then click Add or Remove.
Click Move Up or Move Down to change the order of the icons in the Command bar.
Click Close when finished.

Customize Toolbar