In Internet Explorer 8 security is essential. With Internet Explorer 8 privacy is important too. Learn how to manage them here.
Privacy features
InPrivate Filtering
Many of today's content providers, like Google and Facebook, use tools to track the browsing activities of users across multiple websites. This tracking can provide useful information to third-party sites. However, you may not want certain content providers gathering information about your browsing activity. Internet Explorer 8 offers InPrivate Filtering to give users more choice and control about how third-party sites can track your browsing.
InPrivate Filtering automatically analyzes the websites you visit and identifies which are collecting information about your browsing activity. You can choose to turn on InPrivate Filtering to block third-party websites from tracking your activity, but you will need to do so on a per-session basis.
To use, click on the Safety command, then select InPrivate Filtering.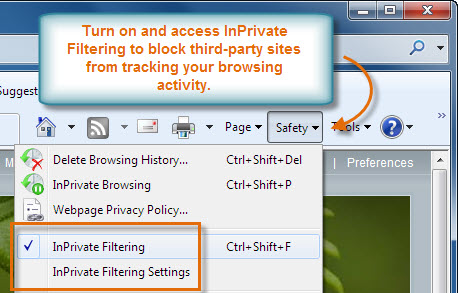 Access InPrivate Filtering
You can also block content directly from an individual page by clicking on the InPrivate Filtering drop-down button in the Status Bar.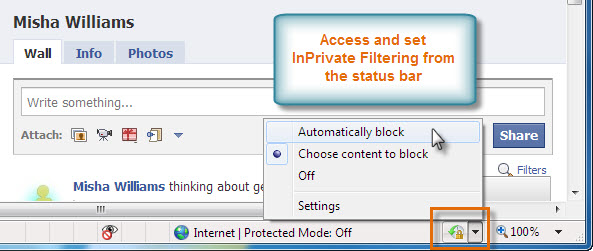 Status Bar Content Blocker
Third-party tracking is complicated, and there are many exceptions to how effectively InPrivate Filtering can work to block these actions. To understand this better, click the Safety command, select InPrivate Filtering Settings, then click the link to Learn more about InPrivate Filtering. From here, you can also check activity and block specific sites.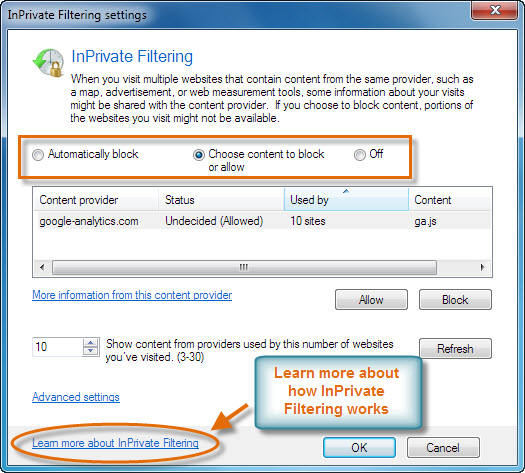 InPrivate Filtering Settings
Controlling cookies
Many websites add small text files to your computer called cookies. Cookies can help your computer communicate with a web server, but they can also be used to track your browsing activity. You can control the level of access cookies have through the Internet Options for Privacy.
Click the Tools button in the Command Bar, then select Internet Options. Click the Privacy tab to adjust the level of protection you want.

Privacy Settings