In Internet Explorer 8 security is essential. With Internet Explorer 8 privacy is important too. Learn how to manage them here.
Content control options
Internet Explorer 8 has a few options for controlling content, including the ability to block certain websites and set parental controls. You can access the Content Advisor to adjust these settings.
Click the Tools button in the Command Bar, then select Internet Options. Click the Content tab, then select Enable or Settings to access the Content Advisor.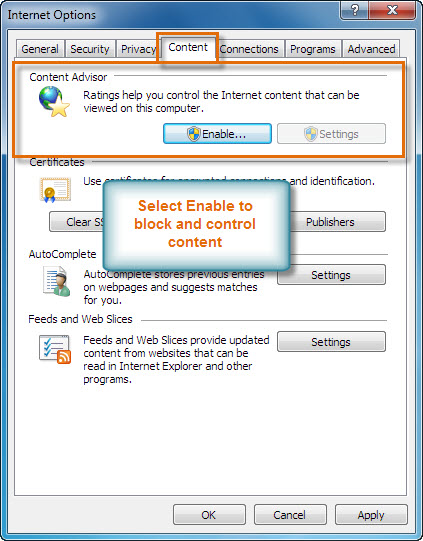 Accessing the Content Advisor
Ratings
In the Content Advisor, Internet Explorer 8 allows you to control content through the ICRA (Internet Content Ratings Association) ratings system provided by the Family Online Safety Institute. If you have children, you may want to explore this feature. If you use this feature, you can create a password that will be required to access blocked pages.
Click the Ratings tab in the Content Advisor window, and adjust the settings if desired.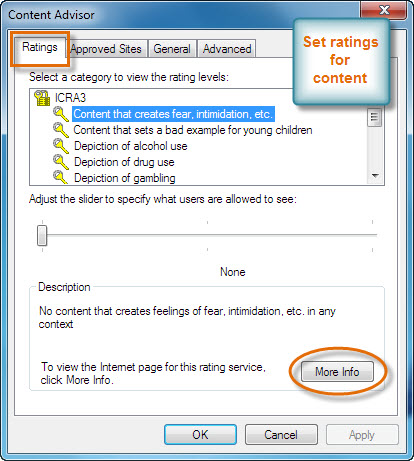 Set Content Ratings
There is not a lot of information about the effectiveness of this feature. It should also be noted that participating websites rate their own content.
Blocking content manually
You may choose to allow or block specific sites from being viewed through the Content Advisor.
Click the Approved Sites tab in the Content Advisor window. Enter a website, then click Always or Never as desired.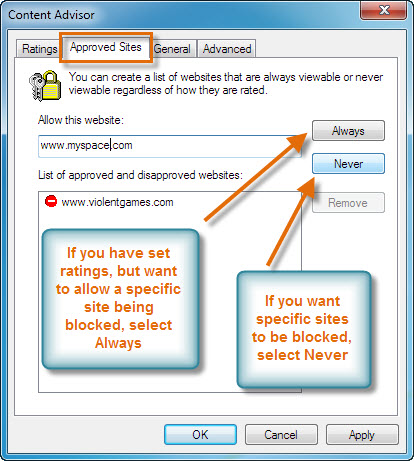 Content Advisor Options
Accessing Parental Controls
If you have set up Parental Controls in Windows 7 with filtering software, you can access that software and adjust its settings from the Content Advisor.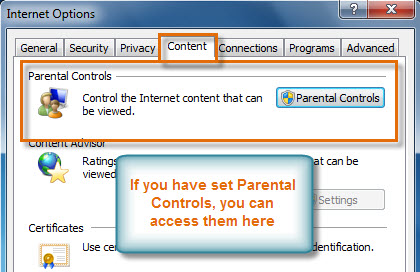 Access Parental Controls